SOC ITrust
Supervise or have your security managed in MSSP or MDR
What is the SOC ?
The Control and Supervision Center managed by ITrust, Security Operation Center (SOC), aims to supervise all or part of an organization's security. Thus, you can concentrate on your core business by entrusting the cybersecurity of your information system to IT security professionals.
Also called MSSP (Managed Security Services Provider) or MDR (Managed detection and response), we offer to manage the security of your company to protect it and respond to incidents. 
The SOC (Security Operation Center) set up and/or operated by ITrust allows you to optimize your cyber protection while ensuring the availability of your services at the best possible cost, while respecting the regulatory framework in terms of compliance. Thus the graphical interface, clear and customizable, allows the user to have a precise vision of what is happening and to supervise all the security of servers, routers, applications, databases, websites…
ITrust implements innovative and modern processes allowing you to benefit from the technologies used by the largest companies at lower costs. Our experience on security platforms within international naques, governments or even international data centers allows us to offer you high value-added services, particularly adapted to SMEs and ETIs, as well as expert systems for large accounts.
Because the ability to understand and analyze observable events on an information system is essential to ensure its security, we offer and outsource the management of the ISS by our engineers and expert consultants.
ITrust's SOC functions can be installed and/or sold as a software platform and/or operated and/or managed.
The SOC is thus On Premise or Hybrid or Cloud. It can be managed by your teams, ours or our white label partners.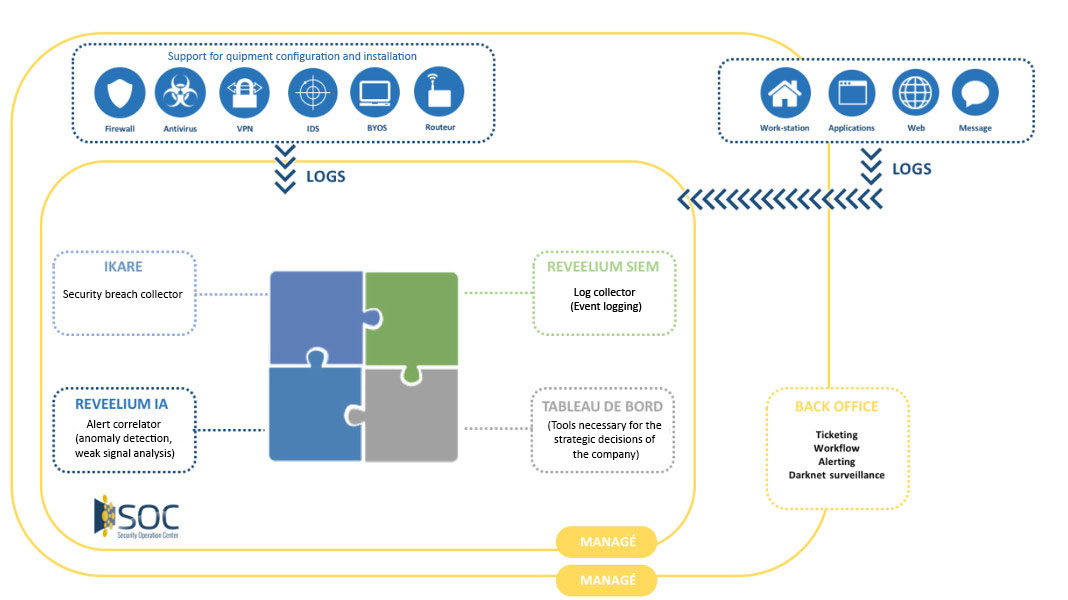 Faced with the strong growth in IT threats, ITrust has developed a comprehensive service offering that ensures optimal security for all your equipment. This offer is based on 2 pillars:
Support for the configuration and installation of safety equipment
Firewall/antivirus/VPN/Intrusion Detection System (IDS)/router : ITrust security engineers are able to ensure for you, partially or totally, the installation, operation and administration of your equipment. This way, you can be sure to have the best protection against intrusions while ensuring the availability of your services at the best cost.
BYOD (Bring Your Own Device) and mobility : the strong growth of mobile devices over the last few years has led companies to change the way they manage their information systems and peripherals.
Security Operations Centre (SOC)
ITrust's SOC offer is based on tools, expert teams, procedures and reporting.
The installation and management of security equipment coupled with the ITrust SOC form the ITrust Security Control Centre.
The elements that make up the control centre can be installed and/or managed as a unit and independently of each other.
The ITrust SOC is an IT solution that :
Provides you with real-time monitoring of the security of your assets: alerts in case of incidents and early detection of any malicious behavior.
Gives you access to ITrust security experts who can be put at your disposal to remotely manage your security, allowing you to focus on your core business.
Accompanies you in the implementation of security governance or in the definition of security architectures.
This solution is highly customizable and can be adapted to an infinite number of situations.
You can decide to manage a supervision platform (SOC) yourself or delegate supervision to us (managed services). By using ITrust service tickets (expertise), you can have us intervene on demand, on a one-off basis or as support, advice or expertise.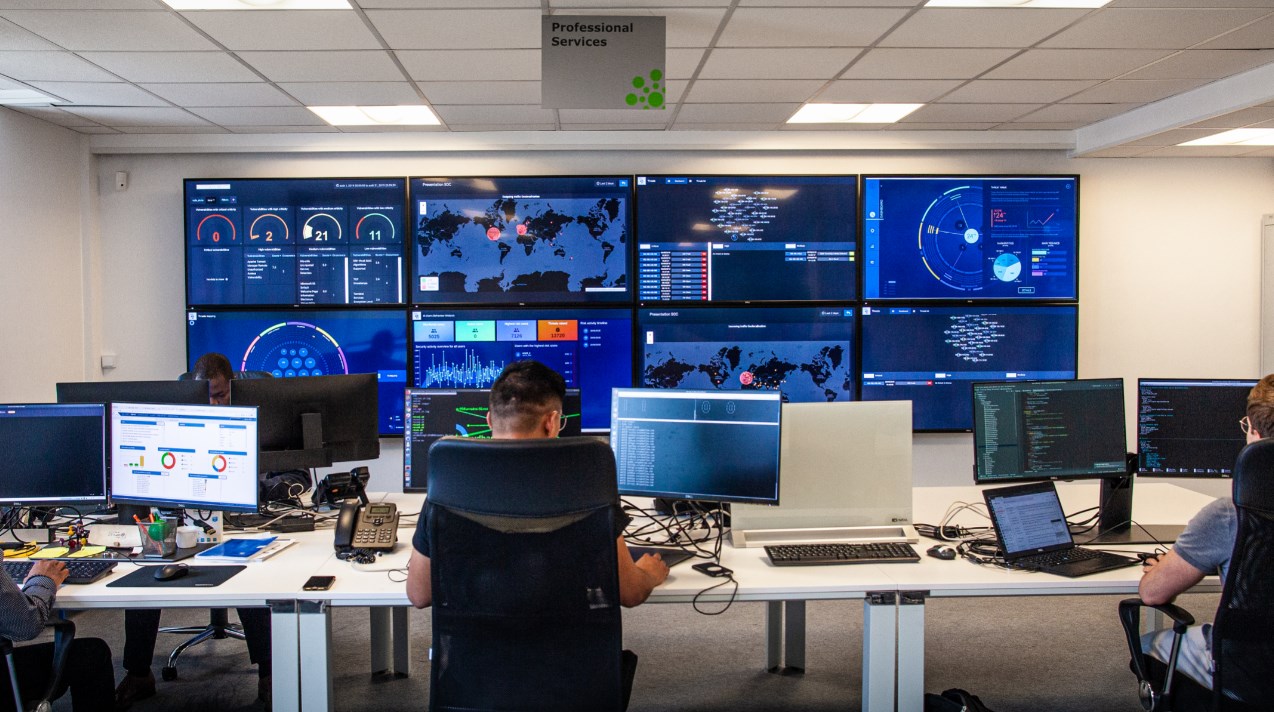 Team of experts at your service
Simplification of perimeter security management
No management of product updates and evolutions
Responsiveness and speed of service