IKare is a flexible solution in SaaS on Premise or on Cloud that will easily adapt to your constraints and the size of your network. All versions of IKare include the full range of security management features.
You can test a free one-month trial version.
Options
SaaS deployement
Deployment
Lifetime of use
Discovery machine – Cartography
Machines (IP) scanned
Monitored perimeter
Number of scans/machines
Business Units
Users
Knowledge Databases
Alerts
Reports
API Access
Syslog Export
Software update
Technical Support
Compliance testing
Multi Holder – Multi Probes
Web Scanner / OWASP Application Scanner
Decision-making dashboard
Zero Day Module
Defense Secret Module – Offline Mode
Option Managed – ikare is analyzed and monitored by ITrust teams. MDR mode
Free
–
Virtual Machine
1 month
Unlimited
32IP
Internal and/or external monitoring
Unlimited
4 max
1
Available 1 month later
Only IHM
PDF
✔
–
–
–
–
–
1 Url
–
–
–
–
Premium
✔
Virtual Machine
Unlimited
Unlimited
32IP – 2048IP +
Internal and/or external monitoring
Unlimited
Unlimited
Unlimited
Knowledge base updated every morning
API, IHM, logs, SMS, Mail in option
PDF, CSV, XLS…
✔
✔
✔
✔
✔
✔
✔ (illimité)
✔
In option : contact us
In option : contact us
In option : contact us
By default, we offer IKare as a virtual machine, which allows you to download and install the solution in a few minutes. If you wish to use IKare only as an external SaaS, i.e. installed in our secure infrastructure and accessible from a web service, please contact us.
ITrust offers a consultant license for partners or independent consultants. For this also contact us.
The concept of vulnerability management is a process that means identifying, assessing and responding to internal and/or external threats to your information system, applications, web network… Whether you are a large or small business, you are not immune to a computer attack. . Understanding the global nature of security issues is always a long process, costly to implement and difficult to manage, especially when you know the diversity of resources and threats associated with them. To help you choose the right solution, ITrust offers a list of points to consider in determining the offer that best suits your company's needs.
Ikare is more powerful than other solutions on the market. Here is a description of the comparative functionalities.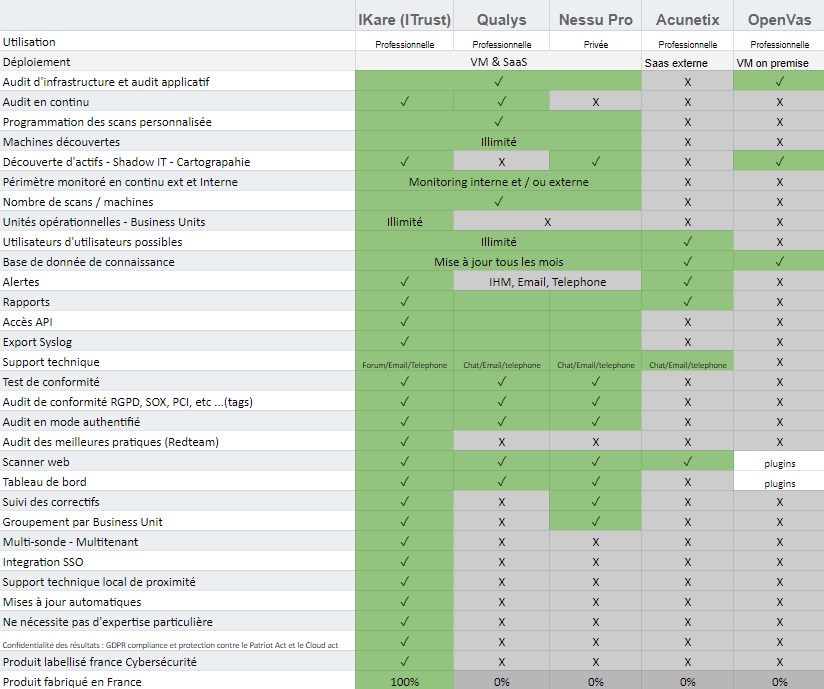 Contact : Sales@itrust.fr