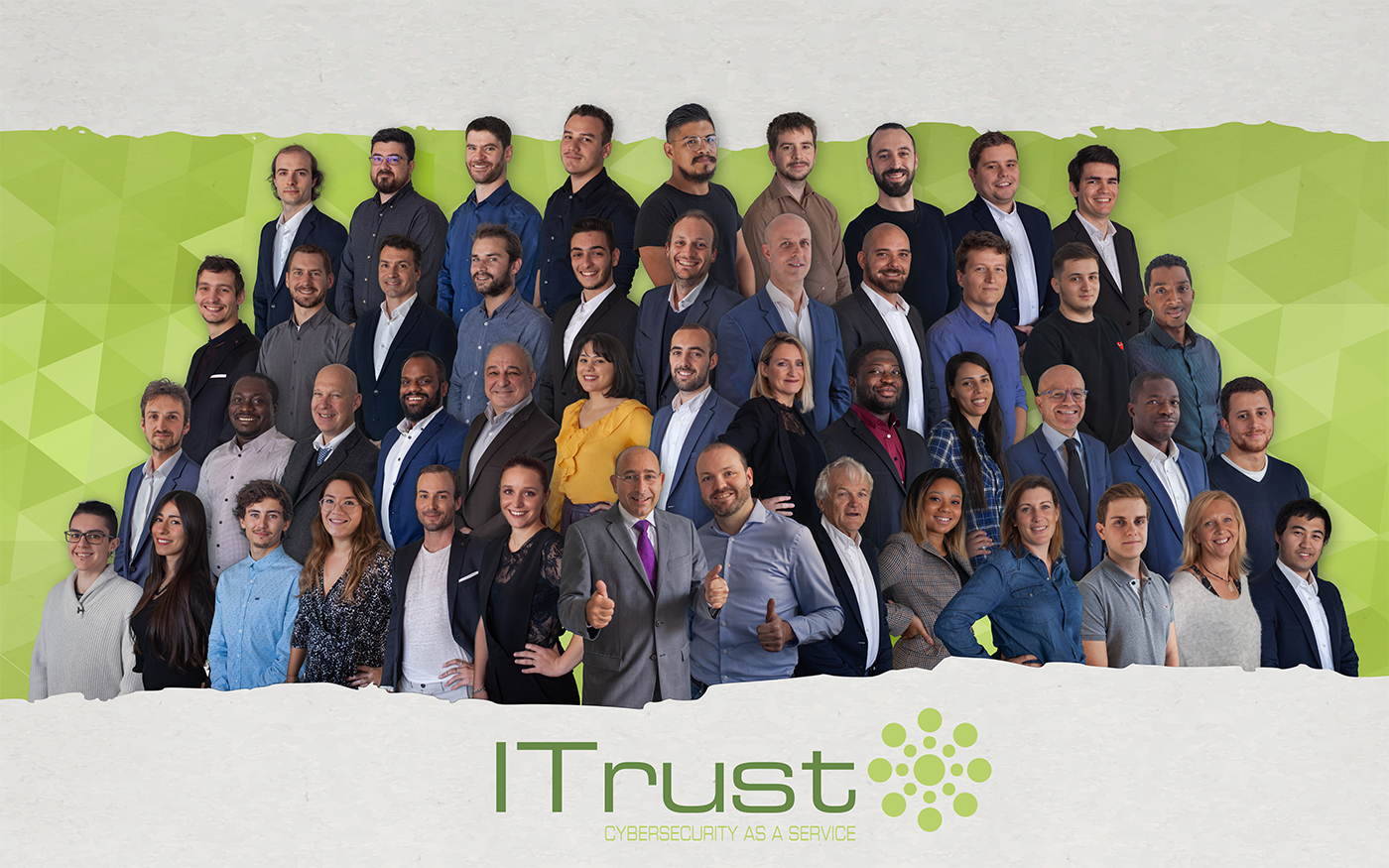 Recruitment
Please contact us only by mail at the following address : recrutement@itrust.fr
Test your "Trust compatibility"?
Start-up that has become big, ITrust is the European leader in Artificial Intelligence applied to defensive cyber security: a real talent incubator, ITrust is both a security expert (consulting, auditing, RedTeam, MSSP, training) and a publisher of innovative software with IKare (vulnerability scanner) and Reveelium (SIEM detecting unknown attacks, APT and malicious behaviour by Machine Learning).
Resolutely turned towards the international ITrust continues its development with the opening of 2 new playgrounds: a school, AN21 to train new talents and an AI research center to counter the "Phantom Menace".
A true visionary, like its management and employees, the company is driven by a passion for the subjects of cybersecurity and artificial intelligence.
ITrust is an innovative company that offers a stimulating and dynamic work environment within a team of experts driven by a sense of conviviality, solidarity and trust. They have all the cards in hand to serve their own ambitions and those of the company.
Beyond its Professional Services, SOC (Security Operations Center) and Research & Development departments, ITrust is also and above all a family, looking for its future members!
Here are the profiles we are looking for:
We also study all the possibilities of internships and apprenticeships/professional contracts:
Our recruitment policy:
ITrust is committed to a recruitment process aimed at equal opportunities, the practice of non-discrimination in all its forms.
Recruitment activities can be carried out externally or with the support of external service providers, mandated by ITrust;
All of our procedures are carried out with respect for equality between men and women (drafting of job offers, topics covered in recruitment interviews);
At least two recruitment interviews are conducted before making a job offer;
All candidates who have taken part in an interview must be informed of the results;
Candidates may be given aptitude tests before the job offer is made;
A copy of the job description will be given to the new employee;
An integration process is planned and scheduled to welcome the new employee as well as possible.
Our recruitment process in characterized by 3 key steps for hiring:
The pre-qualification interview: allows us to take stock of your motivations, your transversal skills and your projects. This interview also allows us to address themes related to the company, its culture and its development.
The operational interview: during an exchange with one of our business referents, this interview allows us to validate your technical skills and to propose a technical assessment. The person in charge of human resources is present during this interview in order to be able to analyse the candidate's soft skills.
The final interview: allows the profile to be validated one last time by the director of the division where the need for recruitment is felt.
ITrust pays particular attention to informing candidates. To this end, we try to provide as much personalized feedback as possible to all our candidates.
The fight against discrimination:
ITtrust is committed to the fight against discrimination. We ensure respect for differences and equal opportunities for each of our employees. This commitment touches on all subjects and in particular in the Human Resources management policy. Promoting the principle of non-discrimination is an important commitment on the part of MCI in its development objective.
We are implementing major principles to meet our commitments:
o  Our job offers and recruitments are assured without any discriminatory dimension;
o Our evaluation methods and access to employment comply with the principle of non-discrimination;
o We implement a maximum number of actions for the recruitment and retention of people with disabilities. To this end, we work closely with the Agefiph services;
o Equity in salary policy and in the development of career paths.